The There Is No Poop Fairy campaign began in 2011 in an effort to encourage dog owners to clean up after their pets.  The campaign focuses on the proper disposal of pet waste, reminding people to Grab It, Bag It, Toss It.  Pet waste is one of the leading sources of E. coli pollution in the Reedy River and is a critical public health issue.
Kids and adults are invited to play as the Poop Fairy in a round of the Poopstacle Course, an exciting relay race that puts opponents head-to-head in a competition to see who can collect the most dog poop (don't worry, it's only plastic).  If you're lucky enough, you may get a glimpse of the "Not a Poop Fairy" hanging out around Greenville County (think 27 yards of pink glitter tulle).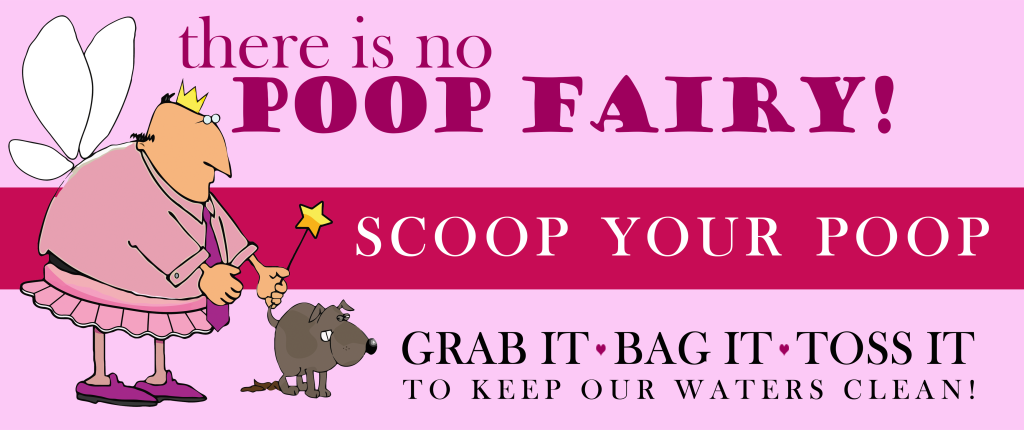 History
"There's no such thing as the poop fairy" was the brainchild of retired Virginian-Pilot columnist Larry Maddry sometime around 2002.  Jasper, an amiable, long departed male Labrador retriever, was the dog star in several aspects of a scoop the poop campaign that began at that time.
The campaign was an effort by the Virginia Beach SPCA, Lynnhaven River Now, the city of Virginia Beach, and the Hampton Roads District Planning Commission. Jasper's owner, John Koehler owner of Koehler Books, was the creative designer behind the campaign in which Jasper was not only the poop fairy but was also the dog in a life ring eyeing a croaker leaping overhead and urging everyone to "Scoop the Poop and Save the Rivers."
The more recent Poop Fairy campaign originated in 2011 in Jefferson County, Colorado.  Boise, Idaho rolled out their version of the campaign with a new "fairy" in 2012.
The Poop Fairy on the Move!
The GCSWCD Poop Fairy campaign has made it's way to:
Des Moines, Iowa
Vinton, Virginia
Oswesso, Michigan
Corpus Christi, Texas
Charleston, South Carolina
Waukesha County, Wisconsin
Southern Sandoval County, New Mexico
Albequerque, New Mexico
Bernalillo County, New Mexico in conjunction with their "Keep the Rio Grande" promotion
For information regarding Poop Fairy licensing for your organization, please contact Lynn Pilewski at 864-920-6397 or lpilewski@greenvillecounty.org.
Yard Signs
Do you face the challenge of a not-so-polite neighbor? Post a friendly reminder in your yard with a "There Is No Poop Fairy" yard sign, available for free to Greenville County residents!
Informational Cards
These cards are available to hand out in your community. Just give us a call at 864-920-6397 for more information.